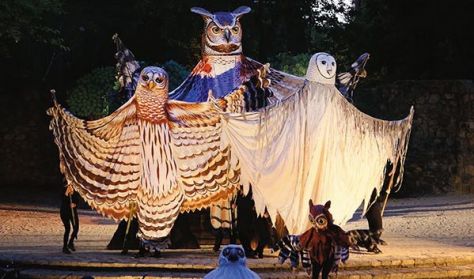 Paperhand Puppets - School Matinee
Date: January 18, 2024 at 10am
Tickets/Reserved Seating: $5 students and chaperones (tearchers are free)
more
In 1998, Paperhand Puppet Intervention's directors Donovan Zimmerman and Jan Burger met and began a collaboration of epic proportions in North Carolina, near Chapel Hill. Inspired by the enormous puppets of the 60's Bread and Puppet Theatre they began crafting their own giants, and their own fantastic stories. Since then, 20 years ago, they have been using papier-mâché, cardboard, bamboo, old house paints, cloth, and other assorted junk (treasure to artists!) to create incredible giant puppets, masks, shadow plays and spectacle performances for all ages. Paperhand's parades, pageants, and award-winning performances aim to be an inspiration, a call to action, and a celebration for everyone to enjoy!
All school programs have accompanying educational materials available upon request.
Grades: 2nd – 5th
Warning! The basket time limit is about to expire!
estimated time left:
00:00
Time limit has expired. Please, put item(s) in to basket again.
---