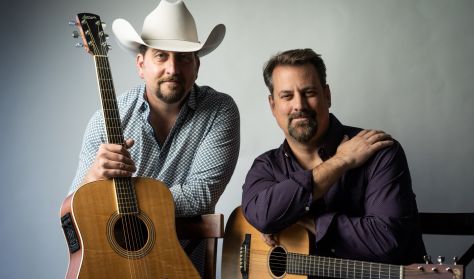 Wilson-Fairchild – Statler Brothers' sons and Country Music Singers & Musicians
Date: November 4, 2023 at 7:30pm
Tickets/Reserved Seating: $20 Adult / $10 Youth (12 and under)
Statler Brothers' sons Wil and Langdon Reid carry on their fathers' Country Music Hall of Fame Legacy! Coined as the ambassadors of country music, the Reid cousins have sung together professionally for over 15 years. They are energetic, enthusiastic, and above all, very talented. Along with their outstanding harmony, which is an inherent trademark from their fathers, Harold and Don Ried, members of the Statler Brothers, Wil and Langdon are prolific songwriters who have had over 30 songs published and recorded. In 2007, the Statlers were inducted into the Gospel Music Hall of Fame, and Wil and Langdon were asked to perform a song in the ceremony. They felt it was time to write their own Statler song in tribute to all their successes throughout their career, "The Statler Brothers Song." Lately, the duo have been opening for the legendary George Jones, but are happy to be performing in Carrollton. Come enjoy an evening of classical and traditional country music.
Date: Tuesday, October 10, 2023 at 6:30pm Tickets/Reserved Seating: $20 Adults; $10 Students with ID (can only be purchased at…
Date: October 19 - 20, 2023 at 7:30pm Tickets/Reserved Seating: $10.00 per person Season Ticket Holders is on October 19
Date: October 6, 2023 at 7:30pm Tickets/Reserved Seating: $25.00 Adults/ $10 Youth (12 & under)
Warning! The basket time limit is about to expire!
estimated time left:
00:00
Time limit has expired. Please, put item(s) in to basket again.
---