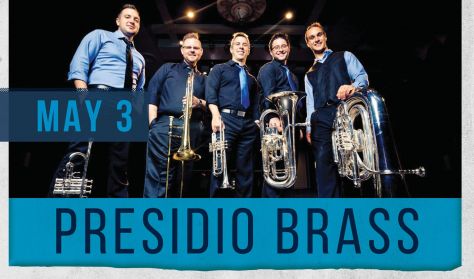 Presidio Brass
May 3 @ 7:30PM
Since 2006, Presidio Brass has rocketed to success as the face of a bold new generation in brass entertainment. By combining a brass quintet, piano and percussion instruments with fresh, original arrangements, their unique sound has become a trademark for the ensemble from San Diego, CA, captivating audiences the world over.
Through their hit touring show Presidio!... And All That Brass!, these five young men present Broadway music and film music with a good dose of wit and humor that together have become hallmarks of each performance. Presidio Brass has performed and provided educational outreach in more than 40 states, conducted master classes at many of America's finest colleges and universities and has been featured on National Public Radio.
In honor of being in Carrollton, Presidio Brass will perform with a local band during the performance and provide master classes to students in the area.