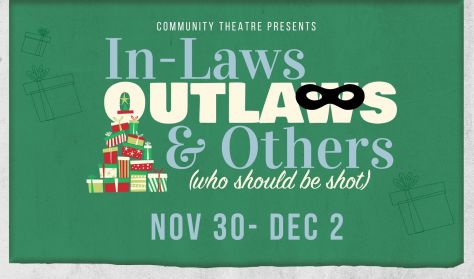 In-Laws Outlaws & Others
Nov 30 - Dec 1 @7:30PM & Dec 2nd @ 2PM
Fa-la-la-la-La It is 6 p.m. and the Douglas family is busily preparing to be invaded by their quirky relatives for their annual Christmas Eve dinner. After robbing a neighborhood liquor store, high strung and irritable Tony and his dim-witted side-kick Vinny, find themselves in need of a place to briefly hide out. Using a ruse to gain entrance into the Douglas home, they suddenly find themselves in charge of an evergrowing list of family members that they are forced to hold hostage. From smartaleck teenagers to nosey  neighbors and bickering adults, the laughs (like the flow of people) are non-stop and we soon wonder who is holding who hostage.
With outrageous characters, laugh-aminute dialogue and a surprise, heart-felt ending, this holiday play is sure to leave your audience in stitches while celebrating the true meaning of Christmas. 
Season ticket holders will come on opening night, November 30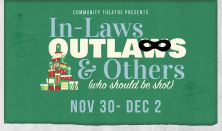 Buy tickets for this event
Nov 30 - Dec 1 @7:30PM & Dec 2nd @ 2PM
PLEASE NOTE: No refunds or exchanges, all sales final.